Connect Magento and MS Dynamics GP
The nChannel platform bridges the gaps between Magento and Microsoft Dynamics GP so you can get the most value out of your vital systems and focus on growing your business. Utilizing pre-built connectors and mapping templates nChannel will guide you through our QuickLaunch Implementation, a proven process that allows you to realize the benefits of automation in just a few short weeks.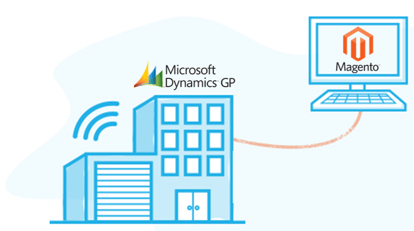 Automate Your Online Sales Transactions
The nChannel platform eliminates manual data entry by automating the movement of sales orders, customer data, shipping status, inventory updates and product information between your Magento store and Microsoft Dynamics GP.

Order fulfillment
Move orders accurately from Magento to Microsoft Dynamics GP in real-time to accelerate fulfillment
Add or update customer information in Microsoft Dynamics GP as orders are placed on Magento
Provide timely shipping statuses to improve your customer's buying experience
Inventory updates
Update product availability in real-time to build buyer confidence
Remove out of stock items from your store before you oversell
Product listing

Sync product data from Microsoft Dynamics GP to Magento to eliminate countless hours of manual data entry
Update prices instantly in Magento to reflect price adjustments or promotions in Microsoft Dynamics GP
Configure Connectors to Meet Your Automation Needs
Configure your nChannel Magento and Microsoft Dynamics GP connectors to handle the specific requirements of your business today and as your business evolves. In addition to the core online business process included in our Basic and Standard subscription plans, nChannel also automates returns, order routing, multichannel fulfillment, calculated inventory allocation, dropship fulfillment, 3PL fulfillment and much more.
Contact us today to learn more!
Contact nChannel and Get Started Today!