There's a Better Way to Integrate.
nChannel empowers retailers and wholesalers with integration tools to sync data between Magento and Sage to automate processes from inventory synchornization to order fulfillment and supply chain management.
We power consistent customer experience by enabling merchants to accelerate order fulfillment, avoid overselling, automate complex order routing, manage product catalogs, update customer records and more.
With smoother operations, you'll increase revenue online and build confidence to expand to new sales channels.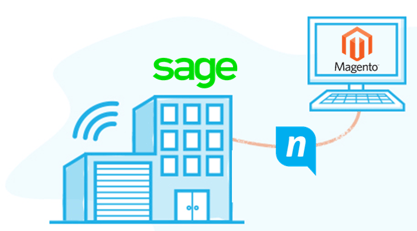 Automate Your Online Sales Transactions
The nChannel platform eliminates manual data entry for orders, inventory, customers, items, and shipping/tracking data. Automation increases operational efficiency by reducing data processing time and eliminating costly errors.
Accelerate Order fulfillment
Move orders accurately from Magento to Sage in real-time to accelerate fulfillment
Add or update customer information in Sage as orders are placed on Magento
Provide timely shipping statuses to improve your customer's buying experience
Sync inventory counts and avoid overselling
Update product availability in real-time to build buyer confidence
Remove out of stock items from your store before you oversell
Manage product catalogs
Syndicate product catalog, item pricing updates and new promotions from Sage to Magento
Update prices instantly in Magento to reflect price adjustments or promotions in Sage

Integrate your supply chain
Integrate 3PL suppliers and drop shippers
Automate complex order splitting and routing by fulfillment location
Reconcile payment terms, purchase orders and shipping notiifcations
See How Our Customers Get the Most Out of Magento

Texas Tamale integrated Magento and Sage 100 and reported that they convert and close 20% more online sales because nChannel speeds up order processing.
Contact nChannel to Learn More!